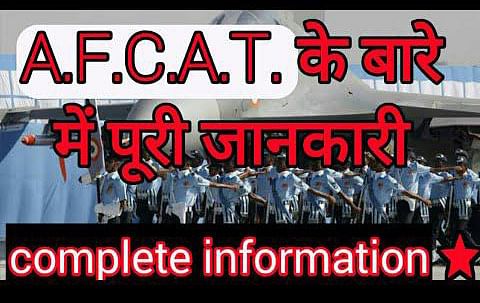 AFCAT: Know what it holds for you?
Air Force Common Admission test, AFCAT is a national level entrance exam conducted by IAF (Indian Air Force), it is organised twice every year. It intends to select potential candidates for various posts in IAF, these post either come under Permanent Commission or Short Service Commission. AFCAT is your route to apply for the three branches of IAF namely, Flying Branch, Technical Branch and Ground Duty Branch. AFCAT is open to both males and females.
The selection in AFCAT is definitely not easy, as a rough estimation claims of 1 to 2 lakh applicants every year and out of these only 10,000 to 15,000 candidates get selected for further tests and training. One needs to be thorough about further predicaments as the training offered to the candidates is way too disciplined and arduous. But those passionate about serving the nation and fear no fatigue are captivated by it's spiritedness and charms of valour. AFCAT is a doorway to get yourself the wings for the protection of the nation.
Frequently asked questions
What does AFCAT stands for?
+
Where can one apply/register for AFCAT?
+
What are the eligibility requirements for AFCAT?
+
Does AFCAT allow women candidates?
+
Is there any application fee while registration?
+
What documents should a candidate carry along on the examination day?
+
Is there any provision for rectifying details, if filled wrong in the application form?
+
What is the paper pattern of AFCAT?
+
Does AFCAT paper have negative marking for wrong answers?
+
How many attempts are offered for AFCAT?
+
What is the syllabus for AFCAT?
+
What will happen after selection in AFCAT? Will there be any kind of recruitment?
+