This includes national highways. National highways connect India's northern, southern, eastern, and western regions, and have become the backbone of the country's road network. The National Highways Authority of India (NHAI), which oversees the development and maintenance of this road network, deserves full credit. National highways are critical for a country's infrastructural development. There are numerous national highways in India. The ten longest national thoroughfares in India will be discussed below.
If you are preparing for competitive exams and looking for expert guidance, you can download our General Knowledge Free Ebook Download Now.
Current Affairs Ebook Free PDF: Download Here  
Attempt Free Mock Tests- Click Here
Table of content
NH 44 is India's longest national route. Formerly known as National Highway 44, National Highway 7 (NH 44). The 3,745-kilometer-long NH 44 runs along the NHDP's North-South Corridor.
Free Demo Classes
Register here for Free Demo Classes
Please fill the name
Please enter only 10 digit mobile number
Please select course
Please fill the email
It starts in Srinagar in the north and ends at Kanyakumari in the south. The NH 44 route was created by combining seven significant old-number national highways, including NH 1A, NH 1, NH 2, NH 3, NH 75, NH 26, and NH 7.
Also read,
India sets a Guinness World Record : Laying 75 km of NH-53 lane in 105 hours
As is common knowledge, India has more than 200 national highways. The top 11 national highways in India, the cities they link to, and their distances are all listed below for your convenience.
| S. No | National Highway | Distance (in km) | Route |
| --- | --- | --- | --- |
| 1 | NH 44 (old NH 7) | 3,745 | Srinagar to Kanyakumari |
| 2 | NH 27 | 3,507 | Porbandar in Gujarat to Silchar in Assam |
| 3 | NH 48 (old NH 8) | 2,807 | Delhi to Chennai |
| 4 | NH 52 | 2,317 | Sangrur, Punjab to Ankola, Karnataka |
| 5 | NH 30 (Old NH 221) | 2,040 | Sitarganj in Uttarakhand to Ibrahimpatnam in Andhra Pradesh. |
| 6 | NH 6 | 1,873 | Jorabat in Meghalaya and terminates at Selling in Mizoram |
| 7 | NH 53 | 1,781 | Hajira in Gujarat and Pradip port in Odisha. |
| 8 | NH 16 (Old NH 5) | 1,711 | East coast of West Bengal to Chennai in Tamil Nadu. |
| 9 | NH 66 (Old NH 17) | 1,622 | Panvel and terminates at Kanyakumari |
| 10 | NH 19 (Old NH 20) | 1,435 | Delhi to Kolkata |
| 11 | NH 34 | 1,426 | Gangotri Dham in Uttarakhand to Lakhnadon in Madhya Pradesh |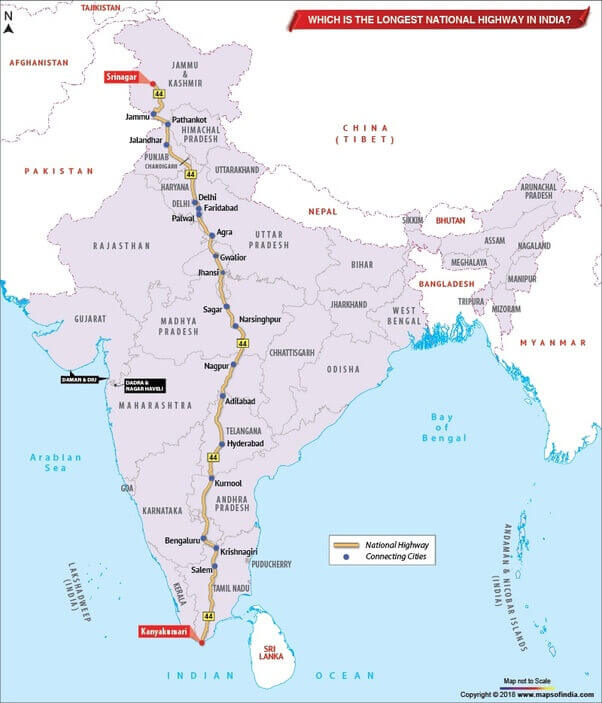 The Ministry of Road Transport and Highways is the owner of the network of trunk roads that make up India's national highways.
The National Highways Authority of India (NHAI), the National Highways and Infrastructure Development Corporation (NHIDCL), and the public works departments (PWD) of state governments are responsible for building and maintaining it. As of April 2019, India had 142,126 kilometers (88,313 mi) of national highways. All of India's major cities are connected by national highways running from north to south, east to west. Golden Quadrilateral exists in India (GQ). GQ is a national highway system that links India's principal economic, agricultural, and cultural hubs. It creates a quadrilateral that connects Delhi (north), Kolkata (east), Mumbai (west), and Chennai, India's four largest metropolises (south).
India's road system is the second-largest in the world. 
There are almost 200 national highways, totaling 101,011 kilometers in length. India has 1,31,899 km of state highways in its entirety. 
The main highway has a two-digit number, and all of the three-digit highways are actually branches of the main highway. 
For instance, the highway number 144 is a subsidiary branch of highway number 44. These are further divided into subgroups and given names with an alphabetic suffix, such as 144A, 244A, etc. 
Only 1.8% of all Indian roadways are used by the national highways. Nevertheless, they manage 40% of the nation's traffic on roads.
National Highway System Colors: *National highways are designated by the colours yellow and white. *White and green for public highways Black and white is only used on city highways. 
The two shortest national highways in India are NH 118 and NH 548. In the state of Jharkhand, NH 118 runs just over 5 kilometres between the cities of Asanbani and Jamshedpur. About 5 kilometres of the NH 548 run through the Maharashtra state. 
The Leh-Manali Highway, which connects Shimla in Himachal Pradesh to Leh in Jammu and Kashmir, is the second-highest motorway in the world.
Also check,
Source: Safalta.com
What was the longest roadway in India known by in the past? 
The longest national highway in India was once known as NH 7.
What does each hue represent in National Highways? 
The colour scheme for national highways is yellow and white. State roads are painted in green and white. For city highways, use black and white.
Which Indian national highway is the shortest? 
The answer is that NH 118 and NH 548 are the two shortest interstates in India.