Union Public Service Commission (UPSC) has postponed NDA/NA (II) 2021 Examination. Earlier the exam was scheduled to be held on September 5, 2021. Now as the official notice, NDA/NA (II) 2021 exam will be held on November 14, 2021. Along with this candidates can also change their preferences for exam centres . There are a total of 75 examination centres where NDA/NA (II) 2021 Exam will be conducted.
Free Demo Classes
Register here for Free Demo Classes
Please fill the name
Please enter only 10 digit mobile number
Please select course
Please fill the email
Something went wrong!
Download App & Start Learning
Source: Amar Ujala
Candidates who have applied for NDA/NA (II) 2021 will be able to make the changes about the exam centre till June 29, 2021. The notice released by UPSC is as follows: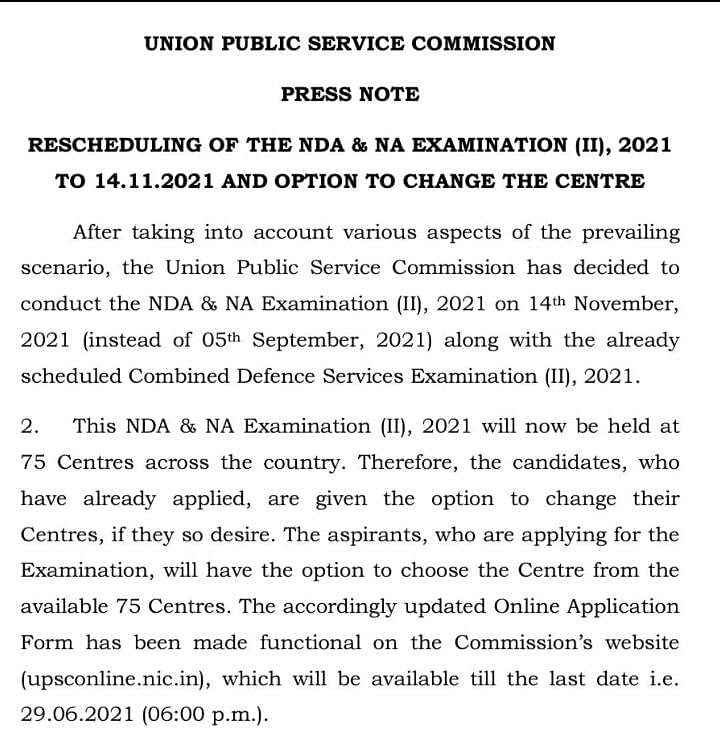 National Defence Academy (NDA) Exam 2021 is a National level exam organized by Union Public Service Commission UPSC to recruit candidates in Army, Navy, and Air Force. It is conducted twice every year and the exams are NDA 1 and NDA 2. NDA conducts its exam in two stages i.e Written exam and an SSB interview. The exam is conducted for admission to Army, Navy, and Air Force wings of NDA and Indian Naval Academy Course (INAC), and more than 4 lakh aspirants appear for the NDA exam every year, out of which approximately 6000 qualified candidates are called for SSB Interview. A list of the candidates is prepared who have qualified for the written exam by UPSC Hence the candidates who are on the list are called for SSB Interview for Intelligence and Personality Test.
Union Public Service Commission (UPSC) holds a national level exam twice a year called the National Defence Academy (NDA). Here you may find the most recent NDA news. On December 30, 2020, the official notification for the NDA I exam was released. The formal notification for NDA II 2021, on the other hand, is likely to be released on June 9, 2021.  
As you have read about what NDA then follows the article for more information about NDA. 
Exam name 

National Defence Academy & Naval Academy Examination (NDA & NA)

Conducted by 

UPSC 

Exam level 

National 

Exam category 

After class 12

Frequency of exam 

Twice a year

Exam stages 

Written Test and SSB Interview 

Exam mode 

Offline 

Exam duration 

5 hours (Mathematics: 2 ½ hours, General Ability Test (GAT): 2 ½ hours) 

Exam syllabus 

Mathematics: Algebra, Trigonometry, Matrices and Determinants, Differential Calculus, Analytical Geometry of two and three dimensions, Vector Algebra, Statistics and Probability.

GAT: English, General Knowledge, Chemistry, Physics, General Science, Geography, Current Events etc. 

Exam pattern 

GAT: 150 objective type questions 

Mathematics: 120 objective type questions 

Language 

English and Hindi 

Exam purpose 

For admission to National Defence Academy (NDA) and Indian Naval Academy Course (INAC) 

Test cities 

41

Exam helpdesk

011-23385271/011-23381125/011- 23098543 

Official website

upsc.gov.in
The dates of NDA I and II exams had been announced through UPSC.
NDA I Dates 2021
Events

Dates

Details

Notification 

30-Dec-2020

The complete schedule along with other details will be released on the website.

Application form 

30-Dec-2020

Commencement of registrations for the NDA exam will begin.

Last date to apply 

19-Jan-2021 

Candidates can submit their application forms online before the last date.

Application withdrawal

To be notified

The facility to withdraw the application form of NDA will be made available after the completion of the application process

Written exam 

18-Apr-2021

The exam will be conducted in two shifts: 

Morning

 Afternoon 

The exam will be conducted across 41 cities spread throughout the country

Admit card 

March 2021

All registered candidates will be issued admit cards for the exam that they need to carry at the exam centre.

Declaration of written result 

June 2021

The result of the written exam is declared online by UPSC and displays the roll numbers of shortlisted candidates.

SSB Interview 

July to Sept 2021

SSB Interview is conducted for the shortlisted candidates who have qualified the written exam.

NDA 2 Dates 2021
Event
Dates
UPSC NDA 2 Notification Date
Expected on 09 June 2021

Starting Date for UPSC NDA 2 2021 Application Form

09 June 2021

Last date for online application for UPSC NDA 2 Registration

29 June 2021
UPSC NDA 2 Exam Date
05 September 2021.
14 November 2021
UPSC NDA 2 Admit Card 2021 Date
expected in August 2021
UPSC NDA NA 2 Result 2021 Date
to be announced
UPSC NDA NA 2 Answer Key 2021 Date
to be announced
UPSC NDA 2 Interview Date
to be announced
Date for 149th Course for the NDA and 110th Course for the Naval Academy
to be announced
Exam Mode

Offline

Number of papers

GAT and Mathematics

Duration of test

GAT: 2 ½ hours

Mathematics: 2 ½ hours

Exam time

GAT: 10 am to 12.30 pm

Mathematics: 2 pm to 4.30 pm

Number of questions

GAT: 150

Mathematics: 120

Language of question paper

English and Hindi

Total marks

Written Exam: 900 (600 for GAT and 300 for Mathematics)

SSB Interview: 900
As you are well versed with the pattern syllabus and interview process let's concentrate on clearing the exam in the first attempt.
NDA syllabus 2021 

NDA Syllabus 2021 Mathematics 
 Algebra

Matrices and Determinants

Trigonometry

Analytical Geometry of 02 & 03 Dimensions

Differential Calculus

Integral Calculus and Differential Equations

Vector Algebra

Statistics

Probability

NDA Syllabus 2021 (Paper 2)
Paper 2 is the General Ability Test. UPSC NDA April 2021 Paper 2 syllabus contains topics from English, General Knowledge, History and Science
Part A - English- The maximum mark is 200
Correct Use of words

Fill in the blanks

Synonyms & antonyms

Grammar and usage

Vocabulary

Comprehension and cohesion
Part B- General Knowledge - The Maximum Marks are 400
The question paper on General Knowledge will cover Physics, Chemistry, General Science, Social Studies, Geography and Current Events.
Below is the complete syllabus of different exams. Candidates have to prepare almost every topic to qualify the test.

NDA Syllabus 2021 for Physics
Physical Properties and States of Matter

The motion of objects, Velocity and Acceleration, Newton's Laws of Motion, Force and Momentum, Parallelogram of Forces, Stability and Equilibrium of bodies, Gravitation, elementary ideas of work, Power and Energy.

Effects of Heat, Measurement of Temperature and Heat, change of State and Latent Heat, Modes of transference of Heat. Sound waves and their properties, Simple musical instruments. Rectilinear propagation of Light, Reflection and refraction.

Spherical mirrors and Lenses, Human Eye.

Natural and Artificial Magnets, Properties of a Magnet, Earth as a Magnet.

Static and Current Electricity

General Principles in the working of the following: Simple Pendulum, Simple Pulleys, Siphon, Levers, Balloon, Pumps, Hydrometer, Pressure Cooker, Thermos Flask, Gramophone, Telegraphs, Telephone, Periscope, Telescope, Microscope, Mariner's Compass; Lightning Conductors, Safety Fuses.

NDA Syllabus 2021 for Chemistry
Physical and Chemical changes.

Elements

Mixtures and Compounds, Symbols, Formulae and simple Chemical Equations

Law of Chemical Combination (excluding problems).

Properties of Air and Water.

Preparation and Properties of Hydrogen, Oxygen, Nitrogen and Carbon Dioxide, Oxidation and Reduction

Acids, bases & salts.

Carbon—different forms. Fertilizers—Natural and Artificial.

Preparation of Soap, Glass, Paints, Ink, Paper, Cement, Safety Matches and Gun-Powder.

Structure of Atom, Atomic Equivalent and Molecular Weights, Valency.

NDA Syllabus 2021 for General Science
Difference between the living and nonliving

Basis of Life—Cells, Protoplasms and Tissues

Growth and Reproduction in Plants and Animals

Human Body and its important organs

Common Epidemics, their causes & prevention.

Constituents of food & Balanced Diet.

The Solar System—Meteors and Comets, Eclipses

Achievements of Eminent Scientists

NDA 2021 Syllabus for History
Indian History including Culture and Civilisation.

Freedom Movement in India

Indian Constitution and Administration.

Five Year Plans of India

Panchayati Raj, Co-operatives and Community Development

National Integration and Welfare State

Basic Teachings of Mahatma Gandhi

Renaissance, Exploration and Discovery

American Independence.

French Revolution, the Industrial Revolution and the Russian Revolution.

Impact of Science and Technology on Society.

Concept of one World, United Nations, Panchsheel, Democracy, Socialism and Communism.

NDA Syllabus 2021 for Geography
Latitudes and Longitudes

Concept of time

International Date Line

Origin of Earth, its Movements and their effects

Rocks and their classification

Weathering— Mechanical and Chemical, Earthquakes and Volcanoes

Ocean Currents and Tides

Temperature and Atmospheric Pressure

Planetary Winds, Cyclones and Anticyclones

Humidity

Condensation and Precipitation

Types of Climate, Major Natural regions of the World.

Regional Geography of India—Climate, Natural vegetation.

Mineral and Power resources;

Location and distribution of agricultural and Industrial activities.

Important Seaports

Imports and Exports of India.

NDA Syllabus 2021 for Current Events
Knowledge of all the important events that have happened in India in recent years or across the world. 

Prominent personalities—both Indian and International including those connected with cultural activities and sports etc.

Check Out the Free Study Materials and Previous Year Question Paper Now.

 
NDA 2021 Mock Tests
It is important that candidates practise mock tests daily for cracking the UPSC NDA 2021 Exam. Practising mock tests regularly will help the candidates in clearing the cut-off marks of the UPSC NDA Written Exam. Therefore,  on the basis of the latest exam pattern & syllabus of the UPSC NDA 2021 Exam, we have created and compiled mock tests of both the sections, i.e., Mathematics & General Ability Test (GAT).
To apply for NDA, candidates must be: 
1) A citizen of India or
2) A subject of Nepal or
3) A subject of Bhutan
4) A Tibetan refugee who came over to India before January 1, 1962, intending to permanently settle in India or
5) A person originally Indian who has migrated from Pakistan, Burma, Sri Lanka and East African Countries of Kenya, Uganda, the United Republic of Tanzania, Zambia, Malawi, Zaire and Ethiopia or Vietnam intending to permanently settle in India
Provided that a candidate belonging to categories 2, 3, 4 and 5 shall be a person in whose favour a certificate of eligibility has been issued by the Indian government.
Certificate of eligibility will not, however, be necessary in case of candidates who are Gorkha subjects of Nepal.
NDA Eligibility Criteria 2021: Age Limit
For NDA 2, candidates must have been born not earlier than January 2, 2002, and not later than January 1, 2005. 

For NDA 1, candidates should be born not earlier than July 2, 2001, and not later than July 1, 2004. 

The commission will accept the date of birth that is entered in Class 10 or 12 certificates of the candidate.

Candidates need to submit these certificates after the declaration of the result of the written exam.
NDA Eligibility Criteria: Educational Qualification
The educational qualification prescribed for admission to the different academies is given below:
| | |
| --- | --- |
| The Army wing of NDA | Passed class 12 or equivalent examination from a recognized board |
| The Air Force and Naval wings of NDA and 10+2 Cadet entry scheme at INA | Passed Class 12 or equivalent examination with Physics and Mathematics |
Candidates who are appearing in Class 12th  or equivalent examination can apply.

Candidates appearing in Class 11th exam are not eligible.
 
NDA Eligibility Criteria: Marital Status
Only unmarried male candidates can apply for the exam. An undertaking should be taken by the candidate to not to marry until they complete their training. Any candidate who marries during the training will be discharged or disqualified and the candidate needs to refund all expenditure spent on him by the government during the training period.
 
NDA Eligibility Criteria 2021: Physical Standards
According to the physical standards for NDA, exam candidates must be physically fit
Height & Weight for Army and Air Force
The minimum height prescribed is 157 cms  (For the Air Force it is 162.5 cms). Certain exceptions are applicable for candidates based on the region from where they belong.
Height (in cms)

Weight (in kgs)

 

16-17 years                    

17-18 years             

18-19 years               

152

42.5

44.0

45.0

155

43.5

45.3

47.0

157

45.0

47.0

48.0

160

46.0

48.0

49.0

162

48.0

50.0

51.0

165

50.0

52.0

53.0

167

51.0

53.0

54.0

170

52.5

55.0

56.0

173

54.5

57.0

58.0

175

56.0

59.0

60.0

178

58.0

61.0

62.0

180

60.0

63.0

64.5

183

62.5

65.0

66.5

For Gorkhas and candidates belonging to hills of North-Eastern areas of India, Garhwal and Kumaon, the minimum height will be 5 cms less than the figure mentioned above. For candidates belonging to Lakshadweep, the minimum height standard is reduced by 2 cms.
Height and Weight requirements for Navy
Height (In cms)

Weight (in kgs)      

 

16 years                 

18 years            

20 years              

152

44

45

46

155

45

46

47

157

46

47

49

160

47

48

50

162

48

50

52

165

50

52

53

167

52

53

55

170

53

55

57

173

55

57

59

175

57

59

61

178

59

61

62

180

61

63

64

183

63

65

67

Candidates who wish to be pilot need to fulfill the following requirements -
Leg Length: The minimum Leg Length of 99 cms and maximum of 120 cms

Thigh Length: The thigh Length should be a maximum of 64 cms

Sitting Height: The sitting height should be a minimum of 81.50 cms and maximum of 96 cms
Visual Standards
The distance vision (corrected) of candidates should be 6/6 in the better eye and 6/9 in the worse eye.

Myopia should not be more than 2.5 D

Hypermetropia should  not be more than 3.5 D including Astigmatism

Air Force candidates must not wear spectacles and their eyes need to fit.
Candidates can check below the visual standards for Navy and Air Force-
 
| | | |
| --- | --- | --- |
| Specification | Naval                              | Air Force |
| Uncorrected without glass | 6/6 | 6/6, 6/9 |
| Corrected with glass | 6/6 | 6/6 (only for Hypermetropia) |
| Limits of Myopia | -0.75 | Nil |
| Limits of Hypermetropia | +1.5 | +2.00 D Sph |
| Limits of Colour Perception | I | Nil |
| Binocular Vision | III | Nil |
| Manifest Myopia | N.A. | Nil Re |
| Retinoscopic Myopia | N.A. | 0.5 |
| Colour Vision | N.A. | CP-I (MLT) |
| Astigmatism | N.A. | +0.75 Cyl (within + 2.0 D.Max) |
| Near Vision | N.A. | N-5 each eye |

Candidates must not suffer from any of the following minor conditions
Wax (Ears)

Deviated Nasal Septum

Hydrocele / Phimosis

Condition of Overweight / Underweight

Under Sized Chest

Piles

Tonsillitis

Gynaecomastia

Varicocele
Guidelines regarding Tattoos
Any permanent body tattoos should be present only on the inner side of the candidate's forearms. 

Under no circumstances, UPSC accepts tattoos on the inside of the elbow to the wrist and the reverse side of the palm/back (dorsal) side of the hand.

Permanent body tattoos on any other part of the body are also not acceptable.

In case a candidate belongs to a tribe where it is customary to have a tattoo, exceptions will be granted considering the traditions involved of that particular region.
Spinal Conditions
Candidates must not have the following diseases:
Granulomatous disease of the spine

Arthritis/spondylosis (Rheumatoid arthritis and allied disorders / Ankylosing spondylitis / Osteoarthritis, spondylosis and degenerative joint disease / Non-articular rheumatism (e.g. lesions of the rotator cuff, tennis elbow, recurrent lumbago, etc.) & Miscellaneous disorders including SLE, polymyositis, vasculitis.

Spondylolisthesis / spondylolysis.

Compression fracture of vertebrae.

SC Heuerman's disease (Adolescent kyphosis)

Loss of cervical lordosis when associated with clinically restricted movements of the cervical spine.

Unilateral / Bilateral cervical ribs with demon stable neurological or circulatory deficit.

Scoliosis is more than 15 degrees as measured by Cobb's method.

Degenerative Disc. Disease.

Presence of Schmorl's nodes at more than one level.

Atlanto-occipital and atlantoaxial anomalies.

Hemi vertebrae and/or incomplete block (fused) vertebrae at any level in cervical, dorsal or lumbar spine and complete block (fused) vertebrae at more than one level in cervical or dorsal spine.

Unilateral Sacralisation or summarisation (Complete or incomplete) at all levels and bilateral incomplete sacralisation or lumbarisation.

Any other abnormality if so considered by the specialist.
X-Ray Exam
Any of the following conditions will disqualify the applicant Armed Forces:
Granulomatous disease of the spine.

Arthritis / spondylosis      

Scoliosis is more than 15 degrees as measured by Cobb's Method (10 degrees for Army and Navy).

More than mild Kyphosis/Lordosis

Spondylolisthesis / Spondylosis / Spondylolysis

Herniated nucleus pulposus.

Compression fracture of Vertebra.

Sacralisation Disease

Cervical ribs with demonstrable neurological or Circulatory deficit.

Presence of Schmorl's node at more than one level.

Atlanto-occipital and atlanto-axial anomalies.

Incomplete Sacralisation Unilateral or Bilateral

Spina Bifida other than SV 1 and LV 5 if completely Sacralised

Any other abnormality, if so considered by specialist
Other medical conditions 
There should not be any symptoms of the weak constitution or bodily defects. 

Candidates must have a well-developed chest.

The function of the bones or joints should be good.

No history of medical breakdown or fits

Candidates must have normal hearing capabilities

No impediment of speech.

Normal blood pressure with no signs of heart disease or blood vessel disease. 

No liver or spleen enlargement

No abnormalities in urine

No skin diseases

No abnormalities in USG abdomen examination

A sufficient number of natural and sound teeth. 

Routine ECG for Air Force candidates must fall within normal limits.
To get the complete details about the eligibility criteria 
Subscribe To Our Free Ebooks Here
SSB interview is considered to be the most exhaustive and toughest among all the interviews that are conducted for any government job examinations. It's really important to clear the SSB interview if you desire to become an officer in Indian Armed Forces. SSB interview has equal marks to that of the written exam. There is a cut-throat competition in SSB interview because just qualifying the written exam doesn't give you the ticket to NDA, there are lots of candidates, who have qualified NDA or CDS written exam several times but they failed in SSB interview. Many candidates have been sent back on the very first day of the interview. The rate of selection in the SSB interview accounts for nearly 6-10% of the candidates who have appeared. 
To clear the SSB interview the candidates require 80% mental efforts and 20% physical efforts. The interview conducting body always looks for officer-like qualities in a  candidate i.e suitable personality, approach towards solving a real-time problem and attitude towards your goals & life. SSB interview is not a one day process but a 5-days process, which is of very long duration. 
The day-wise SSB interview process is explained below.
Day 1
On the very first day, the screening test is conducted consisting of an OIR (Officers Intelligence Rating) test and PPDT (Picture Perception & Description Test).
In the OIR test, candidates are given a set of 50 questions based on Quantitative Aptitude and Verbal & Non-verbal Reasoning. The time given to solve these questions will be 30 minutes. After that in PPDT, candidates will be shown a static picture on the projector for 30 seconds and they have to come up with a thoughtful story based on your perception. The candidates who do not perform well are sent back on the very first day.
Day 2  
On this day, the candidate is called for psychological testing.
TAT (Thematic Appreciation Test) – In this test, the candidates are shown 11 hazy/blur pictures on the projector one by one and the candidates need to write a positive story on the shown pictures.  The 12th picture will be blank and the candidate needs to write a Self-Description on the same.
WAT (Word Association Test) - this test is to determine the candidate's psychology. Candidates will be shown 60 words on a projector consecutively and they have to associate these words with some positive events.
SRT (Situation Reaction Test) - SRT is conducted after WAT and 10 minutes will be given to the candidate for answering these questions. The total number of questions will be 60 and the candidates have to write 2-3 sentences in each situation.
Day 3 & 4
On the third and fourth day of the interview, GTO tasks are done to determine the suitable candidate. The Group Testing Officer (GTO) is the most powerful person in the SSB interview because he will spend 2 days testing your abilities. GTO testing comprises the following tasks-
Group Discussion (GD) –  the group will be given two topics for discussion.
Group Planning Exercise (GPE) – this test will consist of 5 parts.
-      Model explanation
-      Reading of narratives by GTO
-      5 minutes for self-reading
-      10 minutes for writing your individual plan
-      Finally, 20 minutes to discuss the common plan
Progressive Group Task (PGT)- PGT is a set of obstacles in a specified area in which the team members need to cross each obstacle complying with certain rules and regulations. The difficulty level of this task increases after every obstacle.
Group Obstacle Race- This is also known as snake race. The group has to take part in a race of six obstacles. Here, the Group Testing Officer GTO wants to see the co-operation and team-leading quality in you.
Half Group Task (HGT) – HGT is almost similar to PGT, but the group is divided into two parts. Here, the Group Testing Officer wants to see the individual performance of the candidate. The rules for HGT will be the same as in PGT.
Lecturette- In this round, each candidate will be given 3 minutes to deliver a speech in front of the group. Scores depend upon your expressions, body language, fluency, confidence, and the knowledge you have.
Individual Obstacles- In this round, the candidate has to perform individually and needs to cross 10 obstacles. These obstacles are Single Ramp, Double Barrel, Screen Jump, Balancing Beam,  Tarzan Swing, Burma Bridge, Double Ditch, Double Platform Jump, Tiger Leap, and Commando Walk. 
Command Task- this round is to find the commanding ability in a candidate and is conducted before the FGT. The candidates are allowed to choose any two members out of the group that you have been allotted. This task is like PGT and HGT.
Final Group Task (FGT)- this is the final task in testing. All group members are required to finish this task and all rules remain the same as in PGT and HGT. This task is tougher and time taking 
Day 5: This is the D-day of the SSB interview. On this day, the candidate is called for the conference for verification by the panel and after this, results are announced.
Note: A personal interview round is also organized on any day between second to the fourth day. The interviewing officers are a top senior officer like Colonel or Brigadier. Personal Interview is an integral part of the SSB interview process in which the details in PIQ (Personal Information Questionnaire) form are matched with your personality so they need to be correct. 
 
To attempt our free mock tests click here 
Strengthen your English and prepare for SSB Interview along with the written test with the help of our expert faculty. Click Now to Register
The NDA exam is also the toughest of all. Hence, start your preparation now.
Enroll for online coaching for NDA  and get the guidance from the best faculty who not only teaches you but guides you personally. 
What do you get in the online course for NDA 2021
What you get 
Live Interactive Sessions                                       
Personalized Learning
Recorded Classes
Mock Tests
 
Read anywhere any time with Safalta.
Mode of Study

Online Live Classes, with App Support

Targeted Exams

Course Duration

NDA/NA (I) - 18th April 2021

5 Months

Hours of Study

450+ hours of Live Study

Paper Covered

NDA/NA (I) - Paper 1 & Paper 2

Subjects Covered

Mathematics, English, GS (Physics, Chemistry, Biology, History, Polity, Geography, Economics, Current Affairs)

New Batch Start Date

26th October 2020

Class Schedule

5 Days in a week (Monday to Friday)

Daily Class Timings

4 Hrs.
So, what are you waiting for Click to register now for the online course of 
Read Related Articles
Clear all your queries with  Frequently Asked Questions on NDA


Read More:
NDA/NA Detailed Batch– 2021

300+ Hours of Study (Recorded Sessions)
200+ Downloadable PDF Classroom Notes to boost your preparation
Comprehensive and Simplified Method of Teaching
Daily 4 hrs Session
Under the guidance of Lt Col Pradeep Bhatia (Rtrd) Dean, Defence Courses
We cover SSB preparation too during the NDA preparation
Course Duration: 6 Months