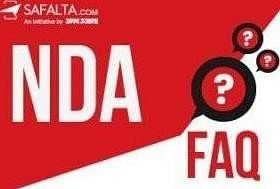 What is the age limit for NDA?
The Union Public Service Commission sets the NDA eligibility requirements. Candidates who are interested in taking the NDA exams must meet the NDA Eligibility Criteria.
 The NDA's eligibility requirements are divided into four categories, each of which must be met by all applicants. The following are the four major aspects of NDA eligibility:
 Age, Marital Status, and Gender Limits in the NDA
NDA (Non-Disclosure Agreement) Nationality/Citizenship
NDA Educational Requirements
NDA Physical/Medical Requirements
The above-mentioned NDA eligibility requirements will be discussed in-depth in this article. Aspirants to the Indian Defense Services must fulfill the eligibility requirements for the National Defense Academy Exam.
In the official notice, the UPSC specifies NDA/ NA eligibility in great detail. On December 30th, 2020, the UPSC issued the notification for the NDA 1 2021 exam. Candidates should look over the NDA Notification for more details.
NDA Eligibility
UPSC publishes a comprehensive overview of the Naval Academy eligibility requirement for the exam in the official note. Aspirants must check the NA eligibility requirements because:
The issuance of an Admission Certificate does not mean that the Commission has approved the candidate's candidacy.
With the aid of original records, the UPSC verifies eligibility requirements.
When an applicant qualifies for the interview and Personality Test, the verification process begins.
The conducting body has the right to refuse an applicant's candidature at any point of the recruitment process if he or she is found to not meet the requisite requirements.
If the nominee is selected, he or she will be subject to removal from service.
An applicant who requires a certificate of eligibility will be admitted to the test, but the offer of appointment will be made only after the Government of India has issued him the requisite eligibility certificate.
Browse other course content on the links given below:
Mission SSC MTS 2021 | President of India Most Important MCQs | Raghvendra Sir | Session 2
UP POLICE SI & ASI Previous Year Questions | GK & GS Analysis Session-4 | by Shashank Sir