National Thermal Power Corporation Limited (NTPC Limited) has issued a short notification for recruitment to the post of RE, Contract Services, Finance, Accounts, P&S, IT, Safety and QA for Renewable Energy. As per the notice, the candidates will be able to apply online from 15 July to 29 July 2022 on the official website of NTPC i.e. careers.ntpc.co.in. If you are preparing for competitive exams and looking for expert guidance, you can download our General Knowledge Free Ebook 
Download Now.
Current Affairs Ebook Free PDF: Download Here  
Attempt Free Mock Tests- Click Here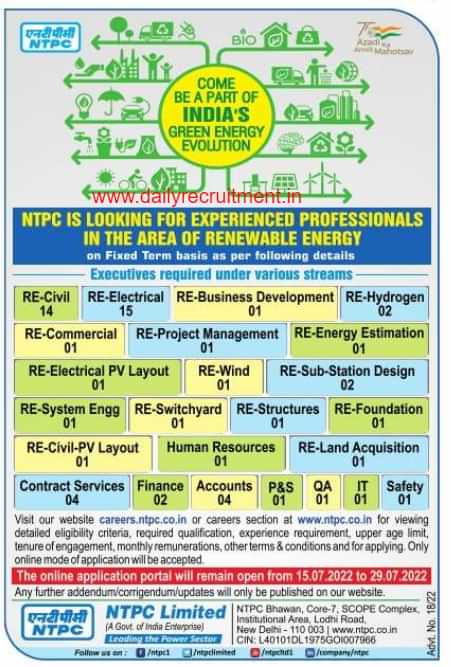 Vacancy Specifics
RE-Civil - 14    
RE-Electrical - 15       
RE-Business Development - 01
RE-Hydrogen - 02
RE-Commercial - 01
RE-Project Management - 01
RE-Energy Estimation - 01
RE-Electrical PV Layout - 01
RE-Wind - 01
RE-Sub-Station Design - 02
RE-System Engg - 01
RE-Switchyard - 01
RE-Structures - 01
RE-Foundation - 01
RE-Civil-PV Layout - 01
Human Resources - 01
RE-Land Acquisition - 01
Contract Services - 04
Finance - 02
Accounts - 04
P&S - 01
QA -  01
IT -  01
Safety - 01
Total Posts - 60
How to Apply for the NTPC Recruitment 2022 Job
Navigate to the NTPC Career Websitecareers.ntpc.co.in.
Click on 'Recruitment of experienced specialists in the field of Renewable Energy, Advt No. 18/22, 12th July 2022'. Online applications will be accepted beginning on July 15, 2022.'
Enter your information accurately and pay.
Finally, press the submit button.
Make a copy of the application form.
Dates To Remember
The application period begins on July 15, 2022.
The deadline for submitting an application is July 29, 2022.
How to prepare for Government Jobs?
If you want to prepare for Government Jobs, you can get an expert's guidance with the help of Safalta's Free Courses: Subscribe Now. Safalta will guide you to prepare for exams like SSC GD, NDA & NA, UP Lekhpal, SSC MTS, etc.
Free Demo Classes
Register here for Free Demo Classes
Please fill the name
Please enter only 10 digit mobile number
Please select course
Please fill the email
Something went wrong!
Download App & Start Learning
Source: Safalta.com
Moreover, the aspirants can check 
E-Books
, 
Mock-Tests
, and 
Current Affairs
 for free.
 If you want to get details about the other Indian government job salaries, you can visit these articles by Safalta