CBSE Class 10 Computer Applications Syllabus:
The Central Board of Secondary Education has released the syllabus for Computer Applications for Class 10. All those students who are currently in Class 10 and have Computer Applications as one of the subjects should refer to the syllabus and study accordingly. Here we have provided CBSE Class 10 Computer Applications syllabus for the benefit of the students. Read this article to get the complete syllabus. Join 
Safalta School Online
 and prepare for Board Exams under the guidance of our expert faculty. Our online school aims to help students prepare for Board Exams by ensuring that students have conceptual clarity in all the subjects and are able to score their maximum in the exams.
Table of Content
Check>>>Class 10 CBSE Math Preparation Tips: Check These Tips To Ensure Full Marks
The ability to design a simple webpage 
The ability to include images, audio, and video in an HTML page. 
The ability to utilise style sheets to enhance the appearance of online pages. 
The ability to communicate with a web server and record the details of a user's request. 
The ability to adhere to basic internet ethics 
The ability to become acquainted with network principles.

Register here to prepare for Board Exams: Click Here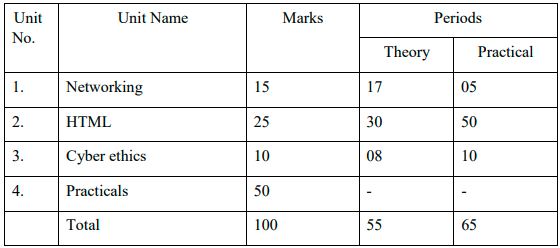 Also Check-
CBSE Class 10 Model Papers for Term 1 Exam : Download In PDF
CBSE results delayed for TERM-1 EXAMS 2022-23

TERM II




To check the preparation tips for scoring maximum marks in CBSE class 10 Social Studies Board Exam, click here.
 
Unit 1: Networking
Internet: World Wide Web, web servers, web clients, web sites, web pages, web browsers, blogs, news groups, HTML, web address, e-mail address, downloading and uploading files from a remote site.

Free Demo Classes

Register here for Free Demo Classes

Please fill the name

Please enter only 10 digit mobile number

Please select course

Please fill the email

Something went wrong!

Download App & Start Learning

Source: safalta.com

Internet protocols: TCP/IP, SMTP, POP3, HTTP, HTTPS. Remote login and file transfer protocols: SSH, SFTP, FTP, SCP, TELNET, SMTP, TCP/IP.
Services available on the internet: information retrieval, locating sites using search engines and finding people on the net;
Web services: chat, email, video conferencing, e-Learning, e-Banking, eShopping, eReservation, e-Governance, e-Groups, social networking.
Mobile technologies: SMS, MMS, 3G, 4G.
Embed audio and video in a HTML page.
Create a table using the tags: table, tr, th, td, rowspan, colspan
Links: significance of linking, anchor element (attributes: href, mailto), targets.
Cascading style sheets: colour, background-colour, border-style, margin, height, width, outline, font (family, style, size), align, float Suggested Lab Exercises
Create static web pages.
Use style sheets to enforce a format in an HTML page (CSS).
Embed pictures, audio and videos in an HTML page.
Add tables and frames in an HTML page.
Decorate web pages using graphical elements.
Create a website using several webpages. Students may use any open source or proprietary tool.
Work with HTML forms: text box, radio buttons, checkbox, password, list, combo box.
Write a blog using HTML pages discussing viruses, malware, spam and antiviruses
Create a web page discussing plagiarism. List some reported cases of plagiarism and the consequent punishment meted out. Explain the nature of the punishment in different countries as per their IP laws.
Unit 3: Cyber ethics
Netiquettes.
Software licenses and the open source software movement.
Intellectual property rights, plagiarism and digital property rights.
Freedom of information and the digital divide.
E-commerce: Privacy, fraud, secure data transmission.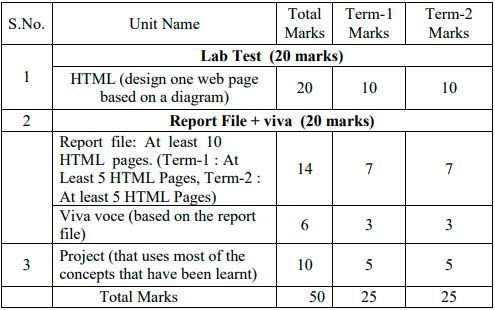 This full syllabus can be downloaded from the following link:
 
Practical consists of how many marks ?
65
Theory is of how many marks ?
What is the learning outcomes?
1. Ability to create a simple website
2. Ability to embed images, audio and video in an HTML page
3. Ability to use style sheets to beautify the web pages.
4. Ability to Interface a web site with a web server and record the details of a user's request.
5. Ability to follow basic cyber ethics
6. Ability to familiarize with network concepts.
Which chapters are included in unit 2 ?
HTML and networking are included in Unit 2
The unit networking consists of how many marks ?
What is Safalta School Online?
Safalta school online is an initiative of Safalta Pvt Ltd to help students score well in their exams by sitting in their homes. We provide online lectures that are very beneficial for the students. 
We also offer free E-books and Mock test papers for the preparation.